Escape Room
All day

-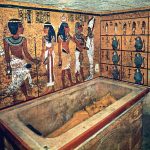 Ready for a challenge during the Holiday Break? Test your skills with the escape room, Escape: Murder in the Forgotten Tomb - In the 1920's the excavation of ancient tombs was all the rage in the Valley of the Kings. We've been called back to check on the whereabouts of a team of explorers who have gone missing while on the search for one of the biggest archaeological discoveries of all time. You have heard that the tomb was cursed, for many who enter meet grisly ends soon after. Upon entering it yourself, you begin to believe it. The professor in charge of the search has been murdered, his body mummified in the depths of the tunnels…
Sign up for one of the 12 time slots available Mon-Wed 11 am, 1 pm, 3pm, or 5pm.
The escape room should take an hour to solve, and groups of 4-6 people can sign up in
advance by calling the ICL and taking an available time slot. There will be a $10 deposit for
holding your spot.
*If you are no longer able to attend, please let the ICL know as soon as possible so that we can
make sure every slot is filled!