Take-and-make Kits supply a craft project for all ages and include most supplies.
(Any tools required are listed on the front of the kit.)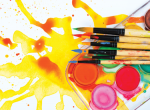 Pick up a Take-and-make Kit in the entry area of the Library or inquire at the Service Desk. Or call (970)563-9287 for curbside service to bring you a kit!